For city dwellers on the house hunt, finding a property in the city can prove to be a tall order. Especially if you're searching for a picturesque two-storey detached house complete with four bedrooms, a backyard and garage.Then you come to the realisation of a choice: A condo vs freehold. What does it even mean?

Between seven-figure asking prices (USD) and intense bidding wars, many buyers often have to drop their expectations down a peg, and factor in that their future house will likely have an attached neighbour — or two.
The most affordable option for buyers set on living in a low-rise house are townhomes. Townhomes, behind detached are the second most prevalent single-family residence in western cities and even becoming the order of the day down here in African cities, and the price difference between the two property types sits at well over $200,000
However, while most people looking to buy know the basic benefits and trade-offs between detached homes and townhouses — from price to privacy — the comparison gets significantly more complex when you factor townhomes come in two forms: freehold and condominium.
So why do some townhomes have monthly fees, while others don't? What even is a condo townhouse? Which should I buy, condo vs freehold? These are common questions raised by those just starting their search.
A lot of confusion stems from the fact many assume condominium equates to apartments, while in fact it refers to a type of ownership rather than a style of house, and isn't exclusive to apartments.
Here's what to look out for when deciding to buy a condo vs freehold terrace.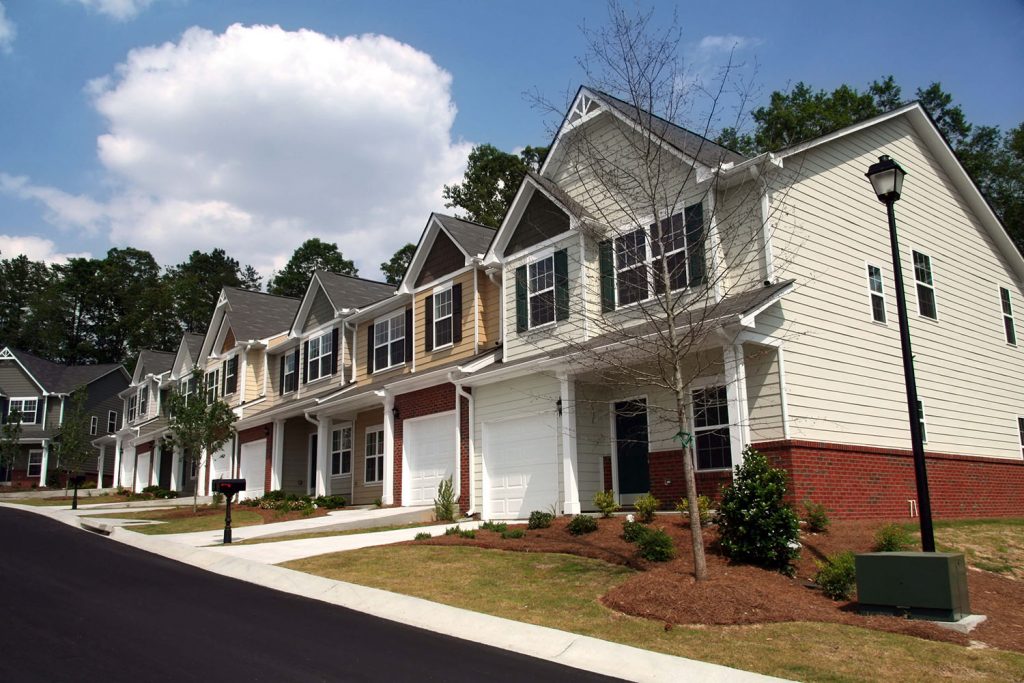 Ownership and fees
Townhomes mainly come in two forms — freehold and condominium.
In a freehold, you outright own the house, the plot of land the home is built upon as well as any front and backyard space that falls within the property line (much like in a conventional detached house).
A far more hands-on form of ownership, residents of freehold townhouses are responsible for handling every facet of maintenance and upkeep, from costly roof repairs to shoveling the driveway. That being said, freehold townhomes don't have monthly maintenance fees, which is a big plus for many buyers. Moreover, as freehold ownership encompasses land, these townhomes boast higher price tags and generally appreciate faster than their condominium counterparts.
A condo townhome on the other hand doesn't include land ownership. Similar to a condo apartment, ownership only extends to the interiors while the land the property is built upon is designated as a common space and ownership is equally split among all members of a condo association. That means condo townhomes are far more affordable than their freehold alternatives, but also generally appreciate at a slower pace.
A huge benefit of a condo townhouse is regular maintenance tasks are covered. Depending on the community and condo corporation, everything from roof repairs to landscaping, window and garage door fixes, along with external structural issues may be covered. The drawback is you will have to pay monthly fees. Generally however, condo townhome fees are far lower than those in high-rise apartments and serve as a safety net from costly and sudden one-off emergency repairs.
Size and upgrades
When it comes to square footage and lot sizes, more often than not, freehold townhomes are larger than condos. Usually no smaller than three bedrooms, freehold townhomes also grant homeowners greater control over their property, as residents have free reign over the look and feel of their home — whether that means painting the front door an eccentric colour or changing some exteriors, like deciding to construct a front deck.
While building new additions can prove difficult in a freehold townhouse due to attached neighbours, you can still undergo some updates like adding a sunroom or knocking down interior walls.
In contrast, condo townhomes often feature smaller interiors and yards than freeholds, and generally range anywhere from one to three bedrooms. Owners of condo townhomes tend to have restrictions on how the exterior of their home is presented, so painting or altering the roof design are often prohibited.
Depending on the community, condo townhomes can either come stacked or in a row. In a stacked condo townhome, one unit is designated to a single storey while another is quite literally "stacked" on top like a very small apartment. In this case, residents have neighbours both above and on the sides but enjoy a more connected floor plan free of stairs that tend to swallow up interior square footage. In row condo townhomes, much like traditional freeholds, each dwelling stands two to three storeys tall and is attached to a direct neighbour on either side, with no neighbours above or below. While these units do have interior staircases, row townhomes tend to be larger than their stacked alternatives and often feature rooftop terraces.
While private yards can be tiny in condo townhomes, often times residents will have access to communal amenities from a neighbourhood swimming pool, gym or landscaped community garden.
Condo vs freehold townhomes in a nutshell: